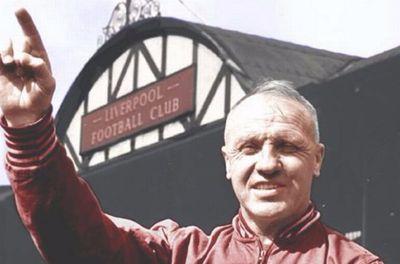 Almost sixty years ago the most important name in the history of Liverpool FC became affiliated with the club. 14th December 1959, saw Bill Shankly finally stride into Anfield with the club languishing in the second tier of English Football.
He would put into motion the driving force for one of the biggest success stories in the history of world football. More managers have won more trophies than the Scot, but few have been as influential as him on any one football club.
Beneath the famous statue of him outside Anfield, chiselled in stone, is the maxim: "He Made The People Happy." No other quote does more to encapsulate the man who built Liverpool FC up from the ruin it had become.  He was a man of the people, loved by the people in a way that would make some royal dignitaries seem unimportant. The club was moulded in his image and his name has passed to legend, but the man himself was a fascinating, colourful character, also made for the big time success he brought to Liverpool FC.
Long way from home
You will no longer find much of Bill Shankly's Ayreshire hometown. Open cast mining swallowed the hamlet and by the late 1990s it had been struck of official maps. Glenbuck today is marked by a handful or ruined houses and a large tribute to its most famous son.
Bill Shankly escaped the precarious occupation of mining, to make it as a footballer. Winning an FA Cup as a player for Preston North End and winning a handful of caps for Scotland would be enough for some pros. Shankly though always had an eye on the dugout.
Before finding his way to Merseyside, Shanks had unremarkable spells with Grimsby, Carlisle, Workington and Huddersfield Town. His managerial career really could have faded to obscurity but fate extended a hand to the man from Glenbuck and he was not going down without his trademark fighting spirit.
Transformation
It cannot be overstated, the size of the task facing Shankly when he took over at Liverpool in 1959. The club had just lost an FA Cup tie to non-league Worcester City. They had been out of the top flight since 1954 and the club's training ground was described by their new manager as a "shambles".
It took the Scot three years to lead his team back to the top flight. Going up as champions in 1962, the nucleus of his first great team was firmly in place.
Roger Hunt, Ian Callaghan, Tommy Lawrence, Ronnie Moran, Ian St John, Jimmy Melia and the towering Ron Yeats were all firmly in place as Liverpool hit the ground running upon their return to the top flight. Within two years they would be champions of England for the first time in seventeen years and a year later, they broke their FA Cup hoodoo, beating Leeds United 2-1 to lift the famous trophy for the first time in their history.  They also came so close to winning the European Cup in 1965, losing a highly controversial Semi Final to Inter Milan.  It was a tie that became synonymous with corrupt officials and is still a bitter pill for that generation of players to swallow.
The transformation though was remarkable. So too was Shankly's unshakable bond with the Liverpool fans.  He was the personification of everything Scousers love; witty, honest, socialist and above all a fanatical lover of the game that had given him so much.  The Kopp felt they had found a kindred spirit, a man who had more than just restored the club to its place at the top table of the game, he had given the club its soul back.
He too lapped up the club as he built a winning team around him in the background.  Paisley, Bennett, Twentyman and Moran would all go on to be huge names for the club in a variety of ways, but each was in tune with what the manager expected from his players.  You had to have more than talent for Shankly; grit, determination, graft and hunger all had to be in your DNA and Terntyman, his Chief Scout was well versed in what his chief wanted.  It was a recipe for a lasting legacy at the club.
Second team and legacy
Shankly's first great side fizzled out somewhat as the club entered a more barren period of success.  They were never out of the top six between 67- 72, but Shankly had set enormously high standards for himself and the fact that they were a constant threat to the title in those years will have been little comfort to at times, irritable Scot.
He was undone by an Achilles Heel of being far too loyal with older players, past their sell-by dates.  Slowly though he started to build up his new side with the likes of Keegan, Hughes, Toshack, Clemance, Cormack and Hall being brought in. They would go on to form the nucleus of what was perhaps, his crowning glory as Liverpool manager.  The League Title, FA Cup and UEFA Cup were all won in the between 1972/73 & 197/74, with Liverpool playing the all inclusive, passing game that Shankly had learnt from his European adventures with the club.
The Scot recognised that the passing game was the future and wanted his teams to move and flow as one eye catching unit.  The culmination of this was, of course, the 3-0 thumping of Newcastle United in the 1974 FA Cup final, with The Reds running rings around the Magpies in football that hadn't really been seen in the country at that point.
In the aftermath of that glory though, Shankly would go onto shock Liverpool and the rest of the football world by announcing he was stepping down from the job he loved so much.  Nobody saw it coming and the city was in shock as the now legendary manager walked away, handing over the reins to his reluctant deputy, Bob Paisley.
What the quietly spoken former phsyio, would go on to do with Liverpool surpassed anything anybody had done before in the English game.  However, it was the framework that Shankly built with his stoic, dedication to The Reds, that allowed Paisley and his successors to dominate for so long.  The Soct had set a standard and expectation for any player pulling on the shirt. You weren't just playing for any club, it was a club built by Shanks, which will forever be indebted to him.
Best Quotes about Shankly:
"Bill Shankly, like Matt Busby, was a canny Scot who was never lost for words. I liked him a great deal and I know he liked me. I respected his knowledge of the game and loved his keen wit, which was as sharp as legend has it".
"You had to learn from Bill. He was football crazy, and I mean crazy. He was fanatical, like no-one else I met. If I had to sum up Bill's effect on Anfield it's quite simple that he got the whole thing going. We were nothing before he came, and look at us now. He's very sadly missed".
Bob Paisley
"You have never met anybody with more drive and enthusiasm for football. His special ingredient was his love of the game. Other managers may have hobbies – they might play gold – but his hobby was football".
Ian St John
"Bill gave everyone connected with the club great belief and principles. Everyone counted for something, whether you were the kitman or you cut the grass. I played for a lot of good managers but none were in the same country, let along the same street, as Bill".
Kevin Keegan
"Shankly was a strict disciplinarian. He was always up-to-date on any player's misbehaviour. If he head that players were womanising or drinking, he'd down on them like a ton of bricks".
Geoff Twentyman
"The big fallacy about Shanks was that he was a great coach, he wasn't.  But he was a great manager, he knew how to motivate."
Emlyn Hughes
"You related the team to Shankly, that is all there was for us in those days. Liverpool were not then the super power they have become, but in Shankly's mind they already were."
Phil Thompson
"Shankly made me feel like a million dollars."
Ron Yeats
"I was just pleased to be picked for a "Bill Shankly football team" and have the honour to represent the team"
Roy Evans on playing for his hero
"When people talk about the 'Liverpool Way', it was always to win. We try to do this and that is our priority if possible. We try to do things properly, like Shankly did.
Rafa Benitez
"Shankly is a an inspiration to anybody who has got feelings towards this football club..we are where we are because of what he did."
Sir Kenny Dalglish
Quotes from the man himself:
"Of course I didn't take my wife to see Rochdale as an anniversary present.
It was her birthday. Would I have got married in the football season? Anyway,
it was Rochdale reserves."
"Above all, I would like to be remembered as a man who was selfless,
who strove and worried so that others could share the glory,
and who built up a family of people who could hold their heads up high and say 'We're Liverpool'
"The socialism I believe in is everyone working for each other, everyone having a share of the rewards. It's the way I see football, the way I see life
"Someone said to me 'To you football is a matter of life or death!' and I said 'Listen, it's more important than that'
To Tommy Smith, who tried to explain that his bandaged knee was injured:
"Take that bandage off. And what do you mean about YOUR knee? It's Liverpool's knee!"
A supporter of football and cricket, who enjoys writing about
the historical, factual, and statistical side of the game. Main
interest in the research and data of the game and how teams
are doing in the English football league and the Premiership,
and the domestic leagues in Europe.