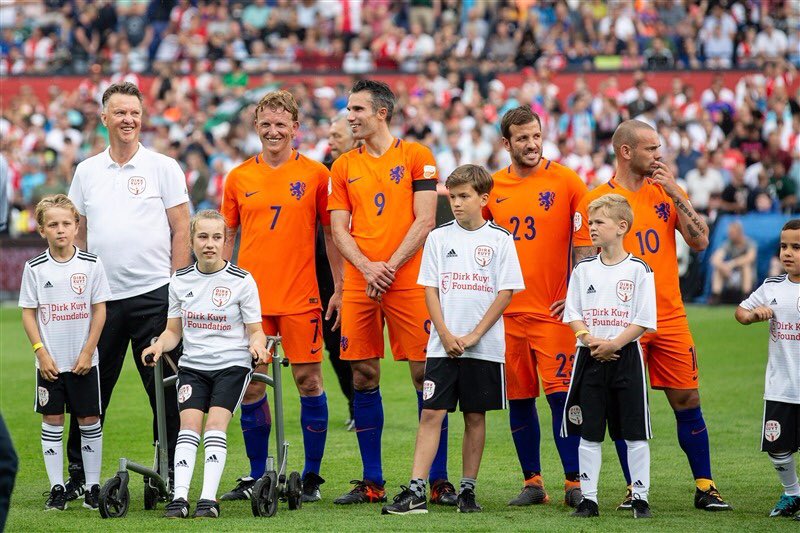 The first came out of retirement to play for one last time.
The second has made it clear he would retire at the end of the 2018-19 season.
The third announced he had retired from professional football with immediate effect.
The simultaneous retirement of these three high profile players is not just a mere coincidence. It happens to be one of the many common threads that define the careers of Dirk Kuyt, Robin van Persie and Rafael van der Vaart.
For starters, all three were key members of the post-millennial Golden Generation of the Netherlands national team that was very successful for more than a decade.
These 30-somethings have each made more than 100 international appearances for the Netherlands and feature in an elite list of most capped players for the Oranje.
All of them played in the 2010 FIFA World Cup decider in Johannesburg, a match in which Andres Iniesta's extra time goal ensured Spain its maiden title, and the Netherlands yet another agonizing defeat in the final.
Each one was a success story in the Premier League, making considerable impact and leaving behind a lasting legacy at their respective clubs.
Besides, this Dutch trio has won a host of personal honors.
The achievements of this triumvirate at the club level, and for the Netherlands are recorded for posterity.
However, their many successes and popularity notwithstanding there's also something else that connects these three players. Unfortunately, it is about failure, something that probably each one of them has regrets about, even if they refrain from admitting it.
Amid a gamut of achievements at the personal level, and with the national team, each one of Kuyt, Van Persie and Van der Vaart have little to show in terms of team honors…err silverware.
A player's skill set, industriousness and overall contribution to the team apart, it won't be an exaggeration to say that the first measure of a player's success is the number of trophies he has won in his career, the number of titles he has helped his club (or country) win.
The biggest names in world football at present, the likes of Cristiano Ronaldo, Lionel Messi and Zlatan Ibrahimovic have, besides a host of personal honors, have also won a plethora of trophies with their respective teams.
Even the other key members of the post-millennial Netherlands national side have an enviable trophy cabinet to showcase. This includes names such as Arjen Robben, Wesley Sneijder, Mark van Bommel, Giovanni van Bronckhorst and for that matter, the considerably less talented but comparatively more successful Gregory van der Wiel.
But despite excelling as players neither Kuyt, nor Van Persie, and certainly not Van der Vaart can boast of the numerous trophies that names mentioned above have managed to accumulate.
Blame it on the teams they have represented, their own indecisiveness – to make the right switch at the right time, or plain bad luck, these three Dutchmen end their respective careers with comparatively empty cabinets, bereft of the big trophies that matter.
Dirk Years
Kuyt, for instance, won the KNVB-Beker (Dutch Cup) with Utrecht in 2003. It was his first major honor that came when his was still a fledgling career.
The next major title in his resume came in 2012, when he helped Liverpool win the League Cup.
There was no silverware in the intervening nine years (from 2003 to 2012). This despite Kuyt establishing himself as a key team player at Anfield – known for his exceptional work rate, becoming a fan favorite and scoring crucial goals.
In fact the aforementioned League Cup was the only trophy Kuyt won during his six years (2006-12) at the Merseyside.
Come to think of it those were the crucial years of his career.
Having established himself as a capable player in the Eredivisie (Dutch League), first at Utrecht and then with Feyenoord, when Kuyt had the chance to make the transition to a bigger league he opted for a club with a lot of tradition, as opposed to one where the probability to win trophies would have been higher. That's probably where he erred.
It is a fact that Liverpool's illustrious history continues to attract players. However, it is also a fact that they have not won a title in the Premier League era, the last of their 18 First Division titles having come back in 1990.
The Reds' last FA Cup success came in 2006, a couple of months before Kuyt joined them.
And Liverpool's last Champions League win was in 2005. They did reach the final again in 2007, and Kuyt even scored in the match, but couldn't stop AC Milan from winning the tournament.
Having failed to win the Eredivise title, and Liverpool's inability to win the Premier League meant at the time of leaving Anfield (in 2012) Kuyt had not won a league title despite playing 14 years of professional football.
That Liverpool has won nothing since he left raises further question on Kuyt's decision.
Further when he left the Premier League he boarded the flight to Turkey, when he could have opted for a more competitive league.
On a more positive note Kuyt did win his first league title, in 16 years as a professional, when Fenerbahce clinched the Turkish Super League in 2014.
A return to Rotterdam ensured a memorable farewell, Kuyt helping Feyenoord win he a KNVB-Beker (2016) and eventually that elusive Eredivisie title (2017).
In a professional career spanning almost two decades Kuyt had won only seven trophies, none of them in European competition.
Persiestence…sans results
A multi-faceted player Van Persie was in the Feyenoord starting XI in the 2002 UEFA Cup final against Borussia Dortmund at the De Kuip Stadion.
The Rotterdam side won the final – remains the last Dutch side to win a European trophy, giving Van Persie a taste of silverware in his debut season.
In 2004, the youngster got his first major contract, Arsenal getting him to the Premier League as a long-term replacement for compatriot Dennis Bergkamp.
During his first year with the Gunners Van Persie won the Community Shield and the FA Cup (2005). That was just about it.
"He was one of the best I ever managed, a man with an exceptional technique," said Arsene Wenger about his star player.
However, Van Persie's eight-year stay in north London coincided with one of the biggest silverware drought in the club's history. Despite being hugely popular among the Arsenal faithful, and claiming the Golden Boot (2012), he failed to inspire the club to any major silverware.
It is sheer irony that in his first year at Manchester United (2012-13), and ninth overall in England, Van Persie finally won that elusive Premier League title. His persistence had finally paid off, even though at another club. In hindsight, his decision of switching the Emirates for Old Trafford looks completely justified.
It was his first ever league title and, in all likelihood, will remain the only one.
His final two years at Old Trafford, following the departure of Sir Alex Ferguson, were insignificant. Like Kuyt, he too headed to Turkey. However, unlike his compatriot, Van Persie endured a horrendous 30 months at Fenerbahce before cancelling his contract and heading back to Rotterdam.
He helped Feyenoord win the KNVB-Beker and Johan Cruijff Schaal (Dutch Super Cup) this year. With Feyenoord a distant third behind PSV and Ajax in the league this year, and Van Persie having announced this will be his last season, it is certain that he will end his career without an Eredivisie title.
Like Kuyt, Van Persie also has a meager haul of seven trophies, in an 18 year career, his only European trophy coming at the start of his career.
A stalVaart's struggles
In hindsight the lack of silverware in Van der Vaart's career can be pinned down to a combination of two factors: a string of injuries and a few moments of indecision.
A quality playmaker and product of the Ajax academy suffered a serious knee injury which meant Van der Vaart had little role to play in the club's Eredivisie – Dutch Cup double in the 2001-02 season, even if he received the winner's medal in both.
His role was a bit more influential in the 2003-04 league title. With top clubs from England, Italy and Spain knocking at his door, Van der Vaart could have picked any. He stunned everyone by opting for Hamburg SV.
"I don't know what to say about it or what Rafael van der Vaart is doing in Hamburg," wrote a disappointed Johan Cruyff in his column for De Telegraaf.
No matter how well he did, and how successful he was in north Germany, Hamburg was never meant to be in contention for any major honors.
After three trophies-less seasons in the Bundesliga, Van der Vaart finally moved to a big club in Real Madrid. It seemed a dream move, but it was far from it.
After two frustrating years at the Santiago Bernebeu, with only a Supercopa de Espana (2008) medal to show for his efforts, Van der Vaart moved to the Premier League, as Tottenham Hotspur's deadline day signing in 2010.
He performed well in tandem with Gareth Bale and Luka Modric, and went on to play 77 games in two seasons for the Lillywhites, scoring 28 goals in all competitions, and finishing his first season as the club's top scorer (13 goals) in the league. However, silverware remained elusive.
In 2012 both Modric and Van der Vaart left White Hart Lane.
While Modric's decision to accept Real Madrid's offer made him one of the world's best players, eventually resulting in the Ballon d'Or, Van der Vaart's decision to return to Hamburg – at a time he was still coveted – was a blunder.
The player later regretted the move.
"It was a stupid decision, the most stupid in my career to leave Tottenham. I absolutely regret it because it was the best two years in my football life," Van der Vaart was quoted as saying by the Mirror in July 2015.
The same decision put his career in perennial decline. In early November, Van der Vaart made an abrupt announcement, that he had called it quits.
His 18-year career yielded only five trophies, much less than a player of his talent probably deserved.
Like Kuyt and Van Persie, Van der Vaart too has many admirers, but few trophies to show for his efforts.
This article is written by Bikash Mohapatra. Follow him on Twitter @vickeypedia
Founder and editor of Footiecentral. A voracious reader who loves reading anything and everything related to the history of football. He's an ardent supporter of Manchester United and rarely misses a match.