Manchester United's soap opera season continues to show no signs of abating. Whether it be criticism from the fans for a perceived negative approach or from within his own camp as players and agents continue to cause serious headaches, time looks like it may not be on Jose Mourinho's side.
It may sound a touch dramatic after only two games of the season, but stories about the Portuguese's future seems a lot more serious than mere conjecture and fan grumbling. United are up against four excellent sides in what looks set to be a mad scramble for the Champion's League spots. On top of that, Arsenal and Everton could be the pick of the remaining bunch and put real pressure on the teams above them.
If history is anything to go by, Jose Mourinho's third season should alert the club's hierarchy as United might not even qualify for the UEFA Europa League if the results do not improve in the upcoming football fixtures until November, which according to their former manager David Moyes should be the easiest part of the season for the 20-time English champions.
If United's flat, rather cautious approach continuous to embolden opposing teams and cost them valuable points then their status as a top four club could be in real jeopardy, and that is before anybody even mentions a title challenge.
On top of that, the club has its commercial status to consider.  Like or lump it, a football club has as much an eye on its operations off the pitch as it does with the results on it.  Ed Woodward is a student of marketing and commerce; he knows the brand value of United, perhaps better than any other person on the planet.  They need to be in a position to attract and keep the likes of Pogba, Sanchez and De Gea.  Rumours linking the French number six with a move to La Liga won't sit too comfortably with the board.  Neither will the notion that the manager is failing to gel with his squad of star players and egos and perhaps causing them to reconsider their options.
With so much at stake, will the United board keep patience with their increasingly dour manager or will they look to a new batch of CVs and try a fourth manager in the post Sir Alex Ferguson era?
Huge job
Inconceivable as it may seem, just after match day two, United could well be drawing up a list of successors.  The very worst case scenario is that Mourinho's infamous third  season syndrome will strike yet again and results could deteriorate at an alarming pace.  The board will not let this happen and will no doubt have one eye on who is potentially able to come and do a job at Old Trafford should the axe fall.
The job of stewarding Manchester United's on field success is as difficult and complex a role as there is in football.  Sir Alex Ferguson created a new definition of success for the club, after it had gone two and half decades without consistent major honours.  His legacy collided with the arrival of the English game's flight into the stratosphere of big money and new commercial markets.
A global fan base numbering in the hundreds of millions has made the job extraordinarily demanding and, at times a thankless task. Any manager the club was to consider would need to be as aware of this as he was successful in his career.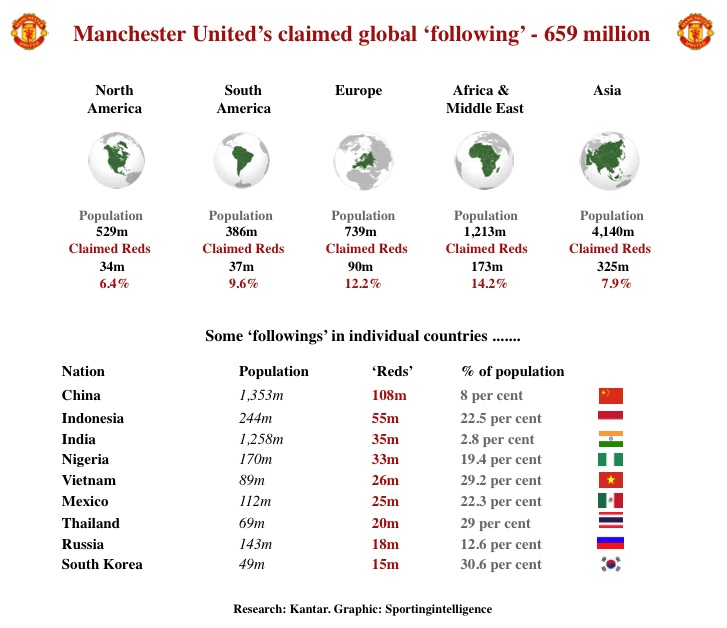 United fans in relation to country population ( Source: Sporting Intelligence )
China – 108 million (8% of population)
Indonesia – 55 million (22.5%)
India – 35 million (2.8%)
Nigeria – 33 million (19.4%)
Vietnam – 26 million (29.2%)
Mexico – 25 million (22.3%)
South Korea – 15 million (30.6%)
The Big Question: Who can replace Jose Mourinho at Manchester United?
Whenever a role like this becomes available, none of the above is a deterrent to the most ambitious and successful managers out there. Mourinho had publicly declared the role to be his deepest, burning ambition. The job does have that kind of gravitas, but who would make it on to their shortlist?  Here is a brief overview of some of the more interesting names out there who would certainly be up for consideration:
Tomas Tuchel:
The German manager knows all about following in the footsteps of a giant presence.  He has twice succeeded Jurgen Klopp in Germany, first at Mainz, then at Dortmund. Tuchel has become a house hold name and already carved a reputation for himself as one of Europe's most gifted coaches.
He is a meticulous manager; dedicated to attacking, free flowing football. Perhaps tellingly, his thirty four match unbeaten run at Dortmund's imposing Westfalenstadion is a sign that he's a manager used to dealing with high expectations of a vociferous and demanding fan base.
At just forty-four he has plenty of longevity and would be considered something of an investment for the club's future. His focus on Dortmund's academy saw the likes of Christian Pulisic, Matthias Ginter and Ousmane Dembele all come through, with plenty of others set to follow their pathway to the first team.
Interestingly, he is credited for getting an extra yard or two out of Aubemeyang during his tenure at Dortmund. The Gabon forward managed an incredible 40 goals in 46 games during Tuchel's final season, something the German press attributed to the Bavarian born coach.
He would need to perhaps add to his trophy haul of just one major honour with Dortmund, in order to command more total respect from the United faithful, and perhaps he is still at a stage of his career where he is learning and building for future success.
Newly appointed PSG manager, his star is still rising in the game and he could well be a shrewd appointment if United made a move. PSG would likely wage war over any approach though, and United will likely want to avoid any more protracted negativity.
Zinedine Zidane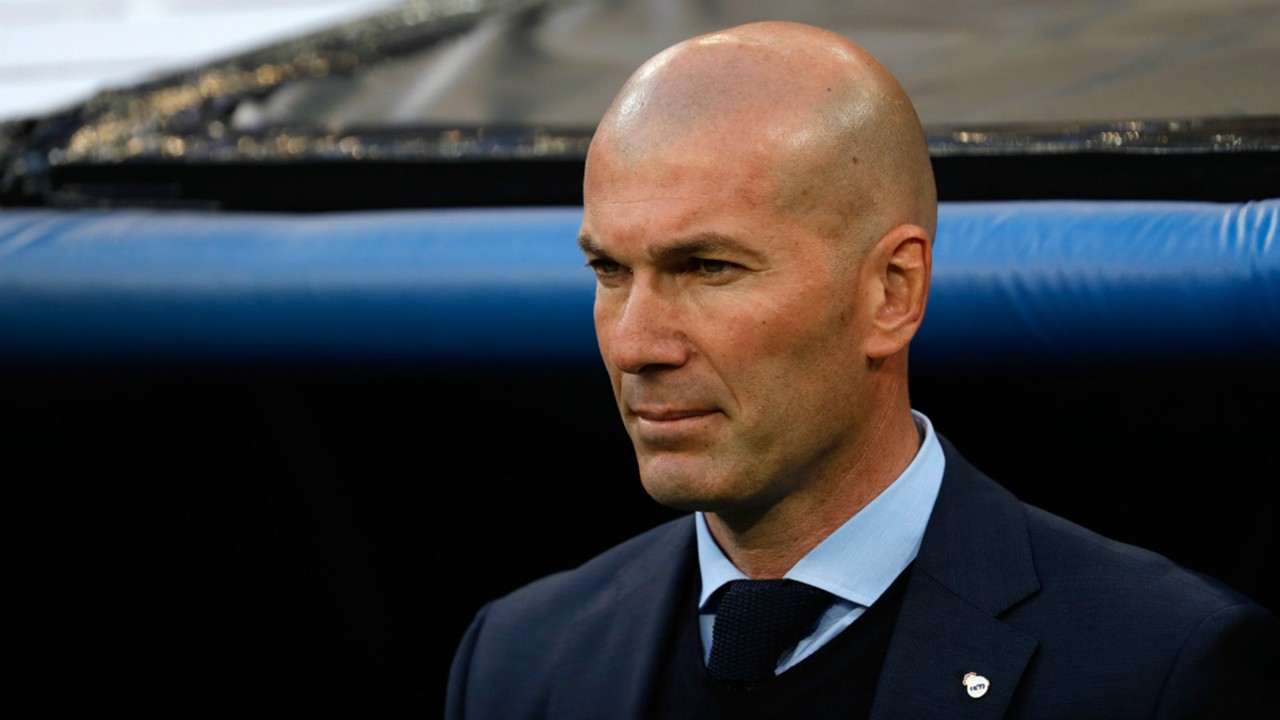 One La Liga title, three times a Champions League winner and a twice a FIFA World Club Champion, Zidane is a coach whose CV should command universal respect from all in the game.  Such is the modern game, that a manager of his apparent pedigree can still be considered something of a rookie and an unknown entity.
A ludicrously dismissive aphorism has attached itself to Zidane over the past three seasons. Many have suggested his title wins are not a fair reflection of his capabilities as a manager. This suggestion is based purely on the fact that the Algerian born, all time great, merely inherited a team full of quality players and didn't actually have to do too much good coaching to steer them to the top.
This should be dispelled by the fact that the manager has won three successive European Cups in the competition's grand history.  Coupled with that, you have to take in to consideration the sheer intensity of pressure that a job like Real Madrid comes with.  The European Cup is a demanded expectation from the fans and directors of Los Blancos, no doubt this would certainly stand him in good stead should the Manchester United hierarchy come knocking. He could easily face off any pressure that the role would bring, by drawing on his three seasons at Real.
There may be question marks over his tactical knowhow, but if he were ever to become Mourinho's successor, there is no doubt he is a figure who would command respect in The Old Trafford dressing room.  He has a winning mentality which would bleed through to the players.
He would need to improve his command of English and would no doubt take time to acclimatize to the combative nature of the Premier League, which has taken a host of foreign managers by surprise.  Woodward's acute marketing mind would no doubt see Manchester United and Zinedine Zidane as a perfect match.  However, if we were to be still learning on the job, then there would be little patience for poor results and adjustment to life in the English top flight.
Ryan Giggs
Supporters at huge clubs like Liverpool and Manchester United will always be pinning for their success to be born from within.  The history and tradition at clubs like that mean there are always fans favourites' thrust into the frame whenever the big job is mentioned.
Giggs is a football legend, almost one thousand appearances in a twenty-four year spell at Old Trafford has made him immortal in eyes of the club's supporters.  The Welshman though is still very much cutting his teeth in management.
He has taken charge of just seven game in his career in the dugout.  The United Job is surely too much of a gamble for both parties.  There is no doubt he understands the very fabric of the club and would tune in to the fan's desires to see a more open, expansive style of football played, after nearly five years of attrition and negativity.  Perhaps though he would need four to five more years and at least one successful stint at club level, to accrue the kind of success needed to be taken as a serious contender for one of the biggest jobs in world football.
There is also an option of appointing Kieran McKenna and Michael Carrick who are both quite inexperience in terms of management at the highest level and it will be a very gutsy yet interesting move by the United board. Kieran McKenna was a big success with the Manchester United academy and was hence promoted to the first team as an assistant post of Mourinho. Should Man United be looking within as Barcelona did in 2008 when they replaced Frank Rijkaard with a certain Pep Guardiola.
Julian Nagelsmann
Thirteen years Gigg's junior, the Hoffenheim boss is forging a reputation for himself as the best young manager in the game.  At just thirty-one, he has guided his club from relegation dead certs to consecutive Champions League Qualification.  Pundits in Germany cannot sing highly enough the praises of Nagelsmann and what he has managed to do in such a short space of time with an unfashionable club.
He has already won the German Football Manager of the Year and has received praise from men like Tuchel and Jupp Heynckes.  A rich football education has already been afforded to him, as he worked under Thomas Tuchel aged just twenty-four as an opponent analyst,  his mentor was suitably impressed:
"He's a very inquisitive and very hardworking young coach…He enjoyed exceptional successes in youth football. I'm very happy for him and I believe in him."
Again, like Giggs, he could be considered a little too raw and inexperienced for such a mighty task.  However, if United were looking for a successor they would surely have to consider this young man as a future target. He has galvanized Hoffenheim with beautifully crafted attacking play, breaking with a wonderfully creative Z formation and using wing backs to their full, deadly effectiveness.
The utilisation of drones and live recordings at training sessions also marks Nagelsmann out as an innovator.
Ultimately it would be a tough ask to lure him away from his homeland though, as RB Leipzig have already appointed their manager for 2019/20.  A rising star indeed, we will all be seeing a lot more of this man.
Mauricio Pochettino
Perhaps the best shout and a shrewd bet for any future successor to Mourinho, the Argentine has captured plenty of hearts in England with his attacking play and revitalization Spurs. There is no question that he has created one of the best attacking sides in the Premier League as well as nurturing some of the best young talent in coming through for the England National Team.
There are question marks over the Pochettino's lack of trophy success.  However while that is still important, it is not a given for success at Old Trafford.  Jose Mourinho comes with a virtual guarantee of trophies, and yet his style of football is detested by certain sections of the fans.  Pochettino offers a fresh approach to coaching and encouraging more attacking, exciting football, but not at the determent of results. He has lost less than fifty matches in four years as Spurs manger, finishing 2nd, 3rd and 3rd in his last three seasons, twice finishing above United.
United could do well to take advantage of the current austerity being imposed on Spurs due to their massively expensive new stadium.  Pochettino remains committed publicly, but will no doubt be privately frustrated by Levy failing to secure any new recruits during the last transfer window.  At forty six he is at the stage of his career where he will not want to sit by for five years while his club pays off a massive debt and fails to invest in playing staff.  Manchester United could prove to be very tempting indeed and offer him a blank cheque to work his magic.
A charming, relaxed man, but with a massive commitment and detailed approach to improving his players, he is not too dissimilar to Guardiola in leaving no stone upturned in his methods.  United have a raft of talented youngsters who could perhaps use the guidance of a man with a known pedigree for bringing youngsters through. From Coutinho to Delle Ali, the Argentine knows a player when he sees one and could prove to be something of a throwback to a different era at Manchester United, if fate was to extend its hand.
A supporter of football and cricket, who enjoys writing about
the historical, factual, and statistical side of the game. Main
interest in the research and data of the game and how teams
are doing in the English football league and the Premiership,
and the domestic leagues in Europe.