At a time when international breaks are widely seen as unwanted, tedious and potentially dangerous breaks from the ongoing domestic season, UEFA has devised a plan to put international football back on the agenda. It is one of the biggest shake up of international football on the continent in decades and one that is already proving to be divisive.
There is no doubt that international exhibition matches offer the chance for national team managers to experiment with their team setups and formations. They can provide valuable insights and the chance to blood new comers to the side. In a match where the pressure is reduced, some players can blossom and be eased in to the side.
On the other hand, club managers are left to sweat, hoping that their players return from their international obligations, injury free and ready to go again the hectic domestic calendars. It only takes one mistimed tackle, a fraction of a second late for injury to strike; one which could end a player's season and derail his club's season.
International breaks, particularly for friendlies spark the age old club vs country row. The players are often caught in the middle between club coaches and international managers and the fans are increasingly switching off from non-competitive action. Many players end up opting out anyway, saving themselves from competitive matches.
In fact in recent years, modern records for things like number of caps and international goals have been met with cynicism from purists. Many of the numbers for these records were made up in non-competitive matches and are therefore seen as obscuring or even watering down the value of a player's contribution to their national team. Five of England's centurions, have emerged since the turn of the century, when, arguably, the performances at tournaments were in decline, but more friendly games emerged for the likes Ashley Cole and Steven Gerrard to accrue caps.
Source: Express
The attendance numbers also speak for themselves. The FA was left red faced back in 2014 when a friendly against European minnows Norway drew in just over 40,000 fans to their expensively built new Wembley. When you compare this to the average attendance during the 2018 World Cup Qualifying campaign, when attendances floated around the 82,000 mark at England's national stadium, it is painfully clear; the fans want competitive fare, with something at stake.
Perhaps with falling attendances in mind, and to combat the dreariness of friendly games, UEFA has created the Nation's League. The overall aim is officially, to add competition in non-tournament years, but some may view it as tinkering for tinkering sake.
The new international competition, which replaces most friendlies, is designed to place nations equally ranked national sides against each other more often in a competitive setting. The competition is scheduled to place starting the international break in September 2018 and every two years afterwards.
All 55 UEFA nations are scheduled to partake in the tournament. Four nations will ultimately move to the final stage, where a mini-tournament between them is to be played in June the following year.
Below is all you need to know about the upcoming 2018/2019 UEFA Nation's League:
How are the Teams Grouped?
The national teams participating in the tournament will be split into four Divisions: A, B, C and D according to their UEFA ranking after the 2018 World Cup Qualifiers.
The nations will then be divided again, into groups within these leagues. Each group is composed of three to four teams. The nations participating in the four leagues are as follows:
• League A: Germany, Portugal, Belgium, Spain, France, England, Switzerland, Italy, Poland, Iceland, Croatia and Netherlands.
• League B: Austria, Wales, Russia, Slovakia, Sweden, Ukraine, Republic of Ireland, Bosnia and Herzegovina, Northern Ireland, Denmark, Czech Republic and Turkey.
• League C: Hungary, Romania, Scotland, Slovenia, Greece, Serbia, Albania, Norway, Montenegro, Israel, Bulgaria, Finland, Cyprus, Estonia and Lithuania.
• League D: Azerbaijan, FYR Macedonia, Belarus, Georgia, Armenia, Latvia, Faroe Islands, Luxembourg, Kazakhstan, Moldova, Liechtenstein, Malta, Andorra, Kosovo, San Marino and Gibraltar.
The draw to further divide these divisions into groups was made on January 24 as follows:
• League A:
Group 1: Germany, France and Netherlands.
Group 2: Belgium, Switzerland and Iceland.
Group 3: Portugal, Italy and Poland.
Group 4: Spain, England and Croatia.
• League B:
Group 1: Slovakia, Ukraine and Czech Republic.
Group 2: Russia, Sweden and Turkey.
Group 3: Austria, Bosnia and Herzegovina and Northern Ireland.
Group 4: Wales, Republic of Ireland and Denmark.
• League C:
Group 1: Scotland, Albania and Israel.
Group 2: Hungary, Greece, Finland and Estonia.
Group 3: Slovenia, Norway, Bulgaria and Cyprus.
Group 4: Romania, Serbia, Montenegro and Lithuania.
• League D:
Group 1: Georgia, Latvia, Kazakhstan and Andorra.
Group 2: Belarus, Luxemburg, Moldova and San Marino.
Group 3: Azerbaijan, Faroe Islands, Malta and Kosovo.
Group 4: FYR Macedonia, Armenia, Liechtenstein and Gibraltar.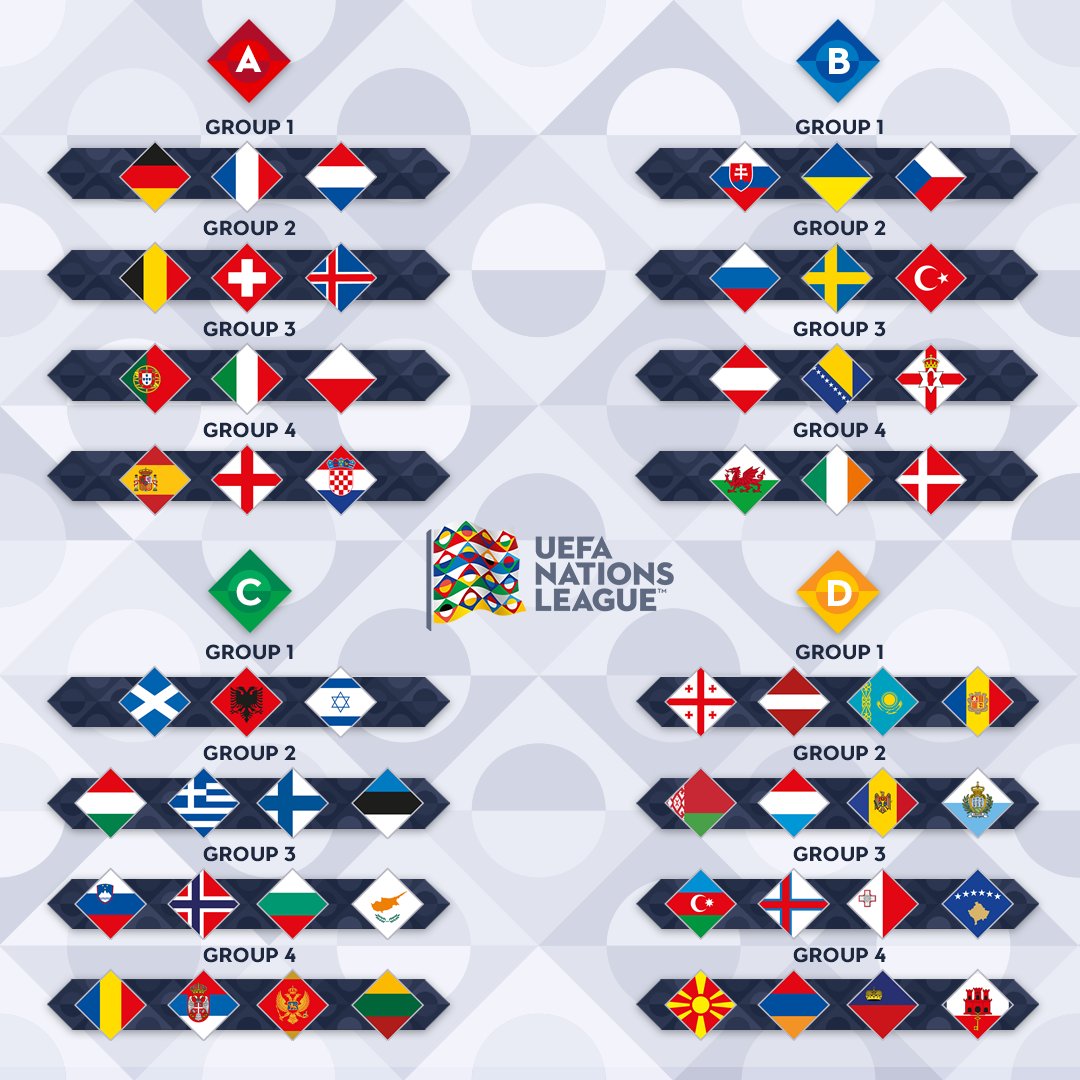 Source: Twitter
What Happens Next?
Matches are to be played home and away on three successive international breaks from September to November. Groups with three teams will play in only four of the six matchdays, with non-competitive fixtures between the teams making up the shortfall.
Each group winner of League A qualifies to the final stage, where a draw will randomly pit the four nations against each other in a one-legged semifinal followed by the third-place match and the final. The final stage is set to take place on June 2019.
Furthermore, for added intrigue, there is promotion and relegation on offer. The group winners of Leagues B, C and D are promoted in the competition's next edition. Similarly, the bottom of the groups in Leagues A, B and C will suffer relegation and be replaced by the aforementioned group winners.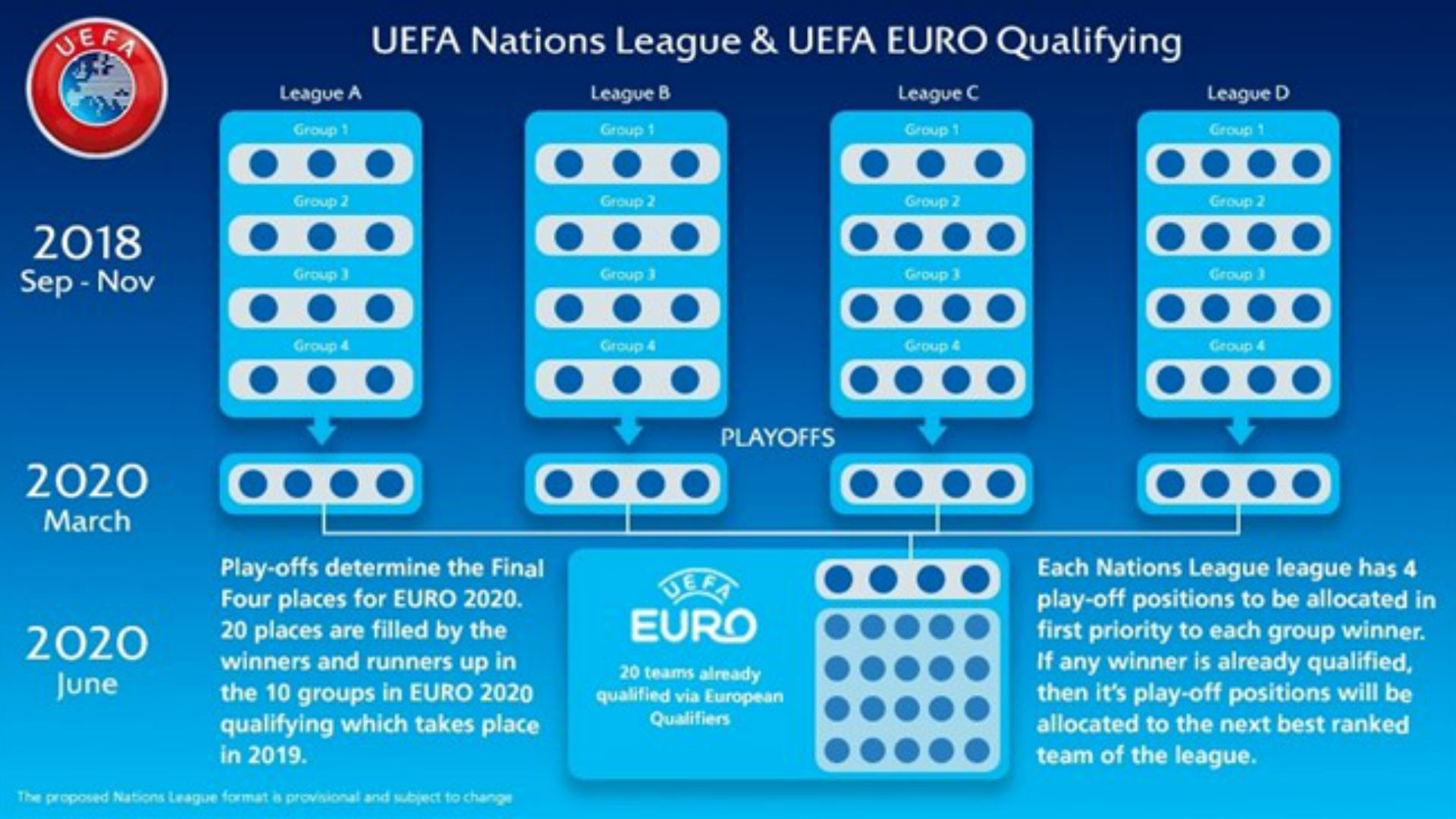 Source: Goal
What will be it's impact on the Euro 2020 Qualification?
The Euro 2020 qualification phase, which remains in the same format, will start in March 2019 ahead of the traditional month of September.
The qualification phase will have the same 55 national teams divided into ten groups with the top two teams from each group directly qualifying to the Euros and taking up 20 of the 24 places available.
The four remaining places are to be determined using a new, slightly complex play-off from the UEFA Nation's League.
The remaining places available for the Euros will be taken by four teams determined through a format featuring 16 teams. The nations are selected based on their performances in the UEFA Nation's League. The group winners from each division will get a second chance to win their tickets to the Euros, if they have failed to make it through the conventional qualifiers. If group winners have already qualified, then their spot will be taken by the next best ranked nation.
If a league has less than four participants in the play-offs then the next best ranked nation from the league below takes the remaining place.
For example, if there are only three teams available for the play-off round in League A, then the next best ranked nation that is not a group winner from League B will make up the remaining spot in League A.
Therefore, from each group in each division, four nations will ultimately compete in a play-off tournament with the overall winner of each, gaining a place at the top table of Euro 2020.
Pros & cons of UEFA Nations League
As above, this competition aims to provide more competitive international matches in years where there are no tournaments. According to UEFA:
"The UEFA Nations League creates more meaningful and competitive matches for teams and a dedicated calendar and structure for national team football."
The aim is, the new format will address the concerns mounting concerns regarding friendly games. While there is yet no indication that the competition will appeal to the fans and improve the quality of the Euros and the World Cup, this organizers of this competition are taking strides to ensure that all teams face teams of similar quality more often. The added interest of promotion and relegation will create a bit more spice.
In addition, the tournament can also offer a safeguard to teams who fail to qualify for Euro 2020. By winning their group, they would be presented with a second chance to qualify as overall division winners from the play offs. Should the unthinkable happen, and a team like Italy stumbles and falls in their qualification group, as they did for the last World Cup, they would have another go and therefore added motivation to take the competition seriously.
Aside from the initial confusion and the complexity of the tournament's format, one of the biggest concerns is that most, if not all of the teams in Leagues A and B will most probably advance to the Euros through the qualification groups.
Thus, in that ideal scenario, the play-offs for those two leagues will contain one or two teams from League A against the next best teams in League B, who might cause some problems for the superior teams and threaten their place.
However, in the play-off path from League B, the teams remaining who have not qualified through the normal route will play the next best teams in League C, which will not pose any threat for the superior teams as there is a vast gap in quality between these two leagues. Therefore it could be argued; the teams that failed in qualifying normally to the Euros from the two top leagues are basically given a more straight forward route to the final match.
Interestingly, sides like Kosovo and Moldova who are increasingly defensive and negative in their mismatched qualifies against the more superior nations on the continent, may actually get a chance to win a few games. In playing half a dozen competitive fixtures, with an actual shot of winning, it may actually encourage sides to play more expansive, risk taking football.
Better football played will no doubt improve confidence and if a nation from the third tier suddenly finds themselves facing off against a big boy like Sweden or Denmark, they may just be emboldened enough to give it a go, with players primed and confident. With a place at the Euros at stake, they'd have everything to gain by claiming a historic scalp.
Will the UEFA Nations League work?
It is important to remember that the tournament is still in its infancy. UEFA will be watching and recording with great interest from the sidelines. The proof will ultimately be in the numbers attending, the revenue from advertising and how smoothly the organization can drop its pet project into the busy schedule of domestic and international football.
Some nations may well be encouraged by the safeguarding of their placer at a major tournament, others may treat it as a hindrance and play the fringe players.
An increase in the competitiveness of international breaks potentially puts players at larger risk of fatigue and injury. This risks further friction with club managers as loss of playing personnel could impact hugely on their domestic campaigns.
The complexity of the tournament will also need to be addressed. It will take most people a lot of time to get around the dizzying explanations and swapping and changing between who goes into the play-offs and from where. The beauty of tournament football partly stems from its simplicity, UEFA may need to go back to the drawing board at some point.
Past tournaments have come and gone, or tried to be resurrected. Bizarrely, the anew home international tournament contested between Scotland, Northern Ireland and Wales was brought back in 2011, under the guise of the Nations Cup. Another slot penciled in for 2013. However, after some dreadful average attendances of just over 12,000 and a lackluster approach by all Football Associations involved, it was scrapped.
The Nations League would be different as all 55 countries are signed up, and can offer more of a collective draw, but ultimately if the revenue isn't there, despite its good intentions, it may not survive this test run.
Sources:
https://fr.uefa.com/uefanationsleague/news/newsid=2507364.html
https://www.theguardian.com/football/2018/jan/23/uefa-nations-league-draw-england-scotland-wales
https://www.fourfourtwo.com/features/uefa-nations-league-explained-why-its-all-change-euro-2020-qualification
https://www.independent.co.uk/sport/football/international/uefa-nations-league-euro-2020-looks-set-to-compound-the-international-game-a7997826.html
http://www.skysports.com/football/news/12010/11218566/uefa-nations-league-explained-how-new-format-could-aid-euro-2020-qualification
https://www.uefa.com/uefaeuro-2020/news/newsid=2502936.html
A supporter of football and cricket, who enjoys writing about
the historical, factual, and statistical side of the game. Main
interest in the research and data of the game and how teams
are doing in the English football league and the Premiership,
and the domestic leagues in Europe.