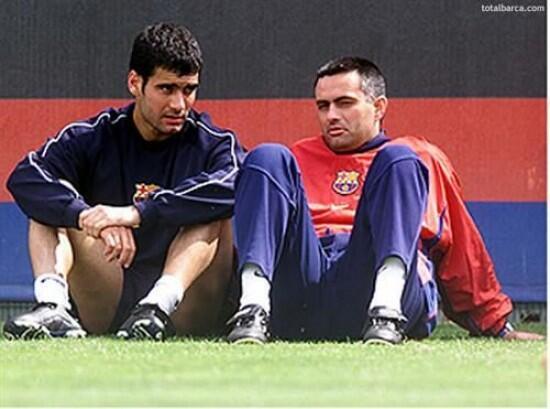 Image via Twitter
The translator and the ball boy are back at it again. For millions of football fans, not only in England but around the world, the clash between the teams of these two iconic managers is almost always certainly a fiery affair. December 9, 2017 was the scheduled date of the first meeting this season between the two Manchester giants, City and United. Both, after big spending summers, have started this season strongly. Man City won the first Manchester derby 1 – 2 at Old Trafford, thereby breaking United's 40 match unbeaten run in all competitions. Already this season's league race looks to be between these two teams, which means one of the most bitter and personal rivalries in football may be about to be revived – Jose Mourinho versus Pep Guardiola.
Early Days
Ironically, the two were once friends and allies at Barcelona, a club which Pep had joined as a boy, working his way up from a ball boy, to youth player and then club captain, whilst Mourinho arrived at the club as translator and part-time coach with his mentor Bobby Robson.
Mourinho returned to his native Portugal to take up various managerial roles, most notably at Porto, where he won the Champions' League, the UEFA Cup, two Portuguese league titles and domestic cup competitions. A move to Chelsea followed and more titles – back-to-back Premier League glory, an FA Cup and 2 league Cups. Meanwhile Pep moved into management himself, taking charge of the Barcelona B team.
The History of Mourinho vs Guardiola rivalry
Arguably the rivalry between the two men started in June 2008 when Barcelona were looking round for a new manager to replace Frank Rijkaard. Mourinho was regarded as the favourite for the job, but, concerned about his high profile reputation and ability to create friction wherever he went, Barcelona's directors instead turned to their internal candidate, the relatively untested Pep Guardiola. Allegedly, Mourinho has never forgiven the slight.
The bad feeling between the two men really started when Mourinho was in charge of Inter Milan, and they were drawn against Barcelona in the Champions' League meeting at the semi-final stage in 2010, when Inter reached the final at the expense of their Spanish rivals. Jose's excessive celebrations at the Nou Camp after his side's aggregate semi-final victory provoked anger in the crowd and on the pitch, and sewed seeds of an enmity that blossomed when, a few months later, Mourinho was appointed as manager of Real Madrid with one overwhelming aim – to upset the hegemony of Barcelona in Spain.
For two years, Jose and Pep went head-to-head as managers not only of the two biggest clubs in the country but also in World Football. Those two years were marred by intense battles on, and off, the field, verbal and physical abuse, red cards, touchline brawls and no end of controversy. Probably the nadir was reached when Mourinho poked Guardiola's assistant, Tito Vilanova, in the eye in the brawl which broke out following a bad tackle.
By the end of the 2011-2012 season, Guardiola had had enough and took a year's sabbatical to recover from the strain, whilst Mourinho left Madrid a year later, amongst talk of dressing room strife and arguments with the Board.
Their rivalry was briefly revived when Chelsea, with Mourinho back in charge, and Bayern Munich, helmed by Pep, met in the final of the UEFA Super Cup in 2013, with the Germans winning on penalties, but when Pep was appointed as Manager of Manchester City for the start of the 2015 -16 season, and Mournho took over from Louis van Gaal at rivals United at the same time, great things were expected. Pep Confidential gives a very good account and a few stunning revelations of Guardiola's football life and his relationships with players and managers. It is a must read for not just Pep fans but also football fans in general.
With Chelsea running away with the League last season the rivalry was largely kept in check, with honours even on the field – City winning one and drawing the other league fixture, and United winning their EFL Cup match.
Guardiola vs Mourinho: Head-to-Head
In terms of head to head meetings, Pep is currently ahead with 9 wins against Jose's 6:
Champions

League

UEFA Super Cup
Premier League
League Cup
La Liga
Copa del Rey
Spanish Super Cup
Pre-Season Game
Pep
3
0
2
0
2
1
1
0
Jose
1
0
1
1
1
1
0
1
Draw
2
1*
1
0
1
1
1
0
Data table updated: June 18, 2018
*Pep won on penalties
Mourinho vs Guardiola: Most Trophies Won
Jose now trails Pep on trophies won.
Jose
Where
Pep
League Titles
8
England 3

Italy 2

Portugal 2

Spain 1

7
Spain 3

Germany 3

England 1

Champions League
2
Portugal 1

Italy 1

2
Spain 2
Club World Cup
0
–
3
Spain 2

Germany 1

UEFA League/UEFA Cup
2
Portugal 1

England 1

0
–
UEFA Super Cup
0
–
3
Spain 2

Germany 1

Domestic Cups
9
England 6

Portugal 1

Italy 1

Spain 1

7
Spain 5

Germany 2

Total
21
22
Data table updated: July 16th, 2018
Style of Play and Football Philosophy
As regards to style of play, a Jose Mourinho team will always emphasize the pragmatic over flair. Everything starts at the back with players who know the value of defending and do not easily get caught out of position. In front of them he prefers 2 holding midfielders, such as a Claude Makele, and a more offensive player, like a Frank Lampard, who can get forward, but also tuck back-in when needed. Upfront there should be a big target man to hold the ball-up and create chances for others as well as himself, with support from the wide players. Jose always wants to win at the expense of everything else, including entertainment.
Guardiola opts for a more expansive style of football, with a heavy emphasis on ball retention, and a disciplined and aggressive pressing style. Although his Barcelona team were praised for his tiki-taka, Pep, in fact, despised the term arguing that possession in itself is meaningless without attacking intent. Instead he looks for a conductor in midfield – a Busquets, Lahm or Silva – to get the play moving and set the tempo. At the back he will play with two attacking fullbacks, and three central defenders, all of who he expects to be ball players. As he prefers his team to play with a high line, he wants his goalkeeper to be a sweeper/keeper (one of the reasons Joe Hart has effectively been jettisoned from City). Going forwards, he likes two mobile forwards, one of whom will drop back to link with the midfield. A Pep team will score lots of goals; the problem is that they will concede a few as well.
Personalities
Mourinho has been described as the most hated man in football because of his abrasive style, provocative comments, and sometimes, deliberately offensive behaviour. It would perhaps be easier to list those who do love him as opposed to those he has offended, often as a form of gamesmanship – from managers, to referees, administrators, and board members. His treatment of Chelsea club doctor, Eva Carnerio, even landed his former club in court with a sex discrimination charge.
This is not to cast Mourinho in the role of sinner and Guardiola as saint, however. Pep also has his faults – an obsession with tactics, and a tendency to manage by numbers. He is so intense that players can feel stifled and overwhelmed. Many of the Bayern Munich squad, for example, described their relief when the more relaxed Carlo Ancelotti replaced Pep as manager there. There has also been criticism of his failure to adapt to changing circumstances on the pitch sometimes.
Relationship with Players
Whilst there are players who have hated playing under Mourinho – Cristiano Ronaldo, Sergei Ramos and Eden Hazard to name but three – there are others who hold him in the highest esteem, such as the spine of his title-winning Chelsea team – John Terry, Lampard and Drogba – as well as players like Wesley Sneijder and Marco Materazi. (A few quotes on Mourinho by former players and managers)
Pep also has his fans with the likes of Busquets, Dani Alves and Philipp Lahm amongst those who regard him with reverence. Equally there are those who have hated being managed by Guardiola – Dante, Franck Ribery and Thomas Mueller to name but a few. (A few quotes on Guardiola)
And those who have played for both men have differing views. Samuel Eto'o, Zlatan Ibrahimović, and Cesç Fabregas, for instance, cannot praise Mourinho highly enough whilst loathing Pep; the likes of Kevin de Bruyne, Arjen Robben and Eider Gudjohnsen can be found in the opposite camp. Only Xabi Alonso seems to share the same esteem for both managers – or perhaps he's just a natural diplomat!
The translator and the ball boy then have taken different journeys and practiced different philosophies and coaching styles to get to where they are now, both ranked high amongst the greatest managers of all time. The next few months will be fascinating to see who comes out on top. Don't rule out the fireworks.
Andy is an exiled English football fan living in Cyprus. He loves all sports but football is his abiding passion, and he still has dreams every now and then about scoring the winning goal in a Wembley Cup Final, even though his playing days are long gone. He follows most major leagues, across Europe at least, and has a favoured team in each. When he's not watching, listening, reading or downloading podcasts about football, he spend his time worrying about his beloved Arsenal.